My Amazing Husband
Tom gave me my Christmas gift tonight, in front of my parents, his, my brother, sister and her fiance.
I have been asking for a bracelet, with my kids birthstones since last Christmas. A week or two ago Tom told me he didn't get me it, again, but wanted to get me something "nicer" than I described. All I wanted was plastic beads in the right colors for my kids stones, on a plastic/wire bracelet thingy from an arts an crafts store, I just wanted him to throw one together..
This is why, I am terrible w/ jewelery and break everything, or never wear it because of lack of dressy occasion..
I bitched, I moaned, told him I was going to hate whatever bracelet he got me, told him I was going to throw it back in his face.. I was a rotton bitch. I deserved to have been bitch slapped right then and there.
He explained how much this bracelet meant, cost, and how important it was that he did this his way. He explained how I
wasn't
going to hate it, how I
wasn't
going to throw it into his face, how infact I
was
going to love it.
This is my new bracelet
, that I cried while reading, and am still tearing up over: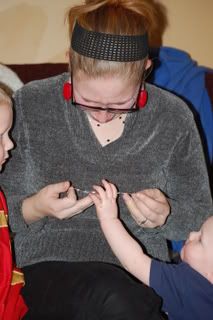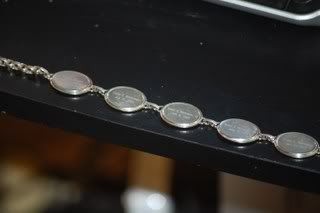 Each of the 5 ovals say:

Nicole A. Montgomery
Jan. 23, 1987

Thomas H. Montgomery, Sr
June 6, 1979
Thomas H Montgomery, Jr
Sept. 6, 2005
Collin P. Montgomery
Jan. 17, 2008
Collin Bailey
Oct. 3, 2006
Forever In Our Hearts
When I saw the baby we miscarried included on my "family" bracelet.. that was it, black eyeliner was all over my face, lets just say it is a very good thing my battery died on my camera right after I first first first saw my beautiful gift.
I will be forever greatful for this, I probably will not take it off until it is lost or broken..
(I mentioned I am terrible w/ jewelery..)