Wow! I can see again!
I lost/broke/lost my glasses when Thomas was about 1, or closer to when he was 15 mos. That was Dec. 06. Since then pretty much everything has been a blur. Yea I haven't gotten them fixed, or gotten new glasses since.. Until the state was willing to completely pay for them that is :D
Here I am in my brand new glasses, I love lookin' like a book lovin' geek :D Yay me!
Oh, and ya gotta love Collin's cute wittle face in this shot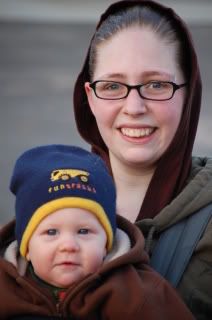 Labels: randomness