Finally my Halloween post :D
Man am I glad it is over, but am now afraid, it is officially Holiday season and time to plan a 1st birthday party.. maybe, just maybe I shouldn't be glad it is over? hmm..
Well anyway, Friday night was awesome! I actually think I had more fun than the boys, but man oh man are my back and shoulders killing me! I decided to "wear" my superbaby so he can get into all the trick or treat action. Yes he was cute, yes he looked like he was flying, and yes he had a blast, but Mommy is paying!
The day started when my Aunt Alice showed up with the first of the goodies, Thomas finally got to put on his costume and get some loot. She gave the boys yogurt, m&m's, a shirt each, and $1 each.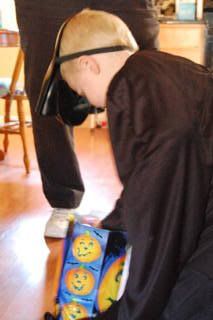 Then Collin woke up from his nap and Daddy finished getting them ready so Mommy could get dressed up. :D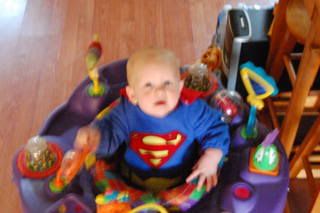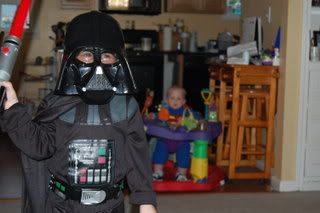 Then Daddy took the boys out to get some pictures. (Like we didn't have a million already :D)
Aunty Alicia, Uncle Ryan, and 9 week old cousin Micheal came over to show off his costume and to Trick or Treat at Poppy and Nana's house.
Grandpa, Grandma, Aunty Cheryl, cousins Eddie and Elizabeth showed up next. They were all coming T&Ting with us. So next I had to get a picture of Darth Vader with the Storm Trooper.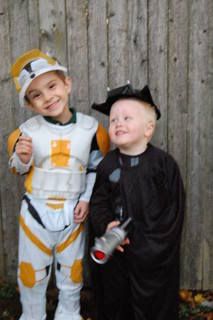 That meant a more shots of my boys.
Oh! Can't forget Mommy :D
Now off to T&T.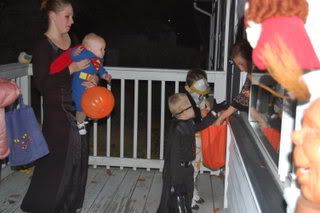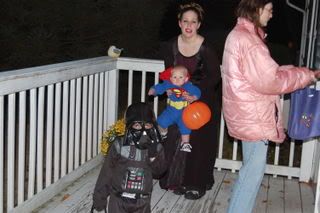 And last picture of the post, My parents, Nana and Poppy's house all decked out for Halloween. And to think all the decorations have already been taken down and the big Turkey is already up.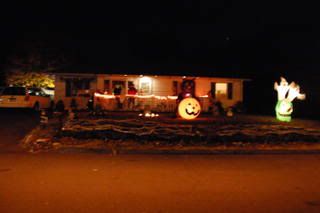 The boys did great! Each boy filled their buckets to the top 3 times, and halfway after that. We got alot of candy! It will probably last until next year lol! Okay.. that is sarcasm, especially with candy nuts like me and my hubby lol!
Whew! 'Nuff pix posted!
Labels: holiday